Swedish LifeWatch ─ a biodiversity infrastructure integrating and reusing data from citizen science, monitoring and research
Keywords:
Artportalen, biodiversity informatics, crowdsourcing, e-infrastructure, participatory science, Species Observation System, taxonomic backbone, web services
Abstract
With high pressure on biodiversity and ever-growing conflicts with human development, qualified systems for scenario modelling, impact assessment, decision support, etc are urgently needed. Such systems must be able to integrate complex models and information from many sources, and to do so in a flexible and transparent way. To that end, as well as for other complicated and data-intensive biodiversity research purposes, the concept of LifeWatch has emerged. The idea of LifeWatch is to construct an e-infrastructure and virtual laboratories through integrating large data sources, computational capacities, and tools for analysis and modelling in an open, service-oriented architecture. To be efficient and accurate, a continuous inflow of large quantities of data is essential. However, even with new techniques, government-funded monitoring data and research data will not feed the system with up-to-date species information of sufficient scale and resolution. This is an area where skilled amateur observers (citizen scientists) can contribute to a very valuable extent.After a preparatory phase, Swedish LifeWatch (SLW) was initiated in 2011. Swedish LifeWatch has an infrastructure where all components are accessible through open web services. At the SLW Analysis portal, different formats of species and environmental data can be accessed instantly, and integrated, analysed, visualized and downloaded at selected temporal or spatial scales. Swedish LifeWatch currently provides 40 million species observations from nine different databases, all harmonized according to standardized formats and the taxonomic backbone Dyntaxa. Some 35 million of these observations were provided by citizens through the online reporting system named the Species Observation System (SOS) or Artportalen. This paper describes this system, as well as the incentives that make it so successful. The citizen science data in the SOS are accessible, together with data from research and monitoring, in the SLW infrastructure, making the latter a powerful instrument for large-scale data extraction, visualization and analysis.
References
Bird, T.J, Bates, A.E., Lefcheck, J.S, Hill, N.A., Thomson, R.J., Edgar, G.J., Stuart-Smith, R.D., Wotherspoon, S., Krkosek, M., Stuart-Smith, J.F., Pecl, G.T., Barrett, N. & Frusher, S. 2013. Statistical solutions for error and bias in global citizen science datasets. Biological Conservation 173: 144–154.
Bonney, R., Shirk, J., Phillips, T.B., Wiggins, A., Ballard, H.L., Miller-Rushing, A.J. & Parrish, J.K. 2014. Next steps for citizen science. Science 343: 1436–1437.
COM(2011)0244. Communication from the Commission to the European Parliament, the Council, the Economic and social committee and the Committee of the regions. Our life insurance, our natural capital: an EU biodiversity strategy to 2020 http://www.ipex.eu/IPEXL-WEB/dossier/document/COM20110244FIN.do
Danielsen, F., Jensen, P.M., Burgess, N.D., et al. 2014. A multicountry assessment of tropical resource monitoring by local communities. Bioscience 64: 236–251.
Crall, A.W., Newman, G.J., Stohlgren, T.J., Holfelder, K.A., Graham, J. & Waller, D.M. 2011. Assessing citizen science data quality: an invasive species case study. Conservation Letters 4: 433–442.
Devictor, V., Whittaker, R.J. & Beltrame, C. 2010. Beyond scarcity: citizen science programmes as useful tools for conservation biogeography. Divers. Distrib. 16: 354 – 362.
Dickinson, J.L., Zuckerberg, B.J. & Bonter, D.N. 2010. Citizen science as an ecological research tool: challenges and benefits. Annu Rev Ecol Evol S 41: 149–72.
Dickinson, J.L., Shirk, J., Bonter, D., Bonney, R. Crain, R.L., Martin, J., Phillips, T. & Purcell, K. 2012. The current state of citizen science as a tool for ecological research and public engagement. Frontiers in Ecology and the Environment. 10: 291–297.
Gardiner, M.M., Allee, L.L., Brown, P.M.J., Losey, J.E., Roy, H.E. & Rice Smyth, R. 2012. Lessons from lady beetles: accuracy of monitoring data from US and UK. Frontiers in Ecology and the Environment 10: 471–476.
Hochachka, W.M., Fink, D., Hutchinson, R.A., Sheldon, D., Wong, W.-K. & Kelling, S. 2012. Data-intensive science applied to broad-scale citizen science. Trends in Ecology and Evolution 27: 130–137.
Jeppsson, T., Lindhe, A., Gärdenfors, U. & Forslund, P. 2010. The use of historical collections to estimate population trends: a case study using Swedish longhorn beetles (Coleoptera: Cerambycidae). – Biological Conservation 143: 1940–1950.
Kelling, S., Hochachka, W.M., Fink, D., et al. 2009. Data-intensive science: a new paradigm for biodiversity studies. BioScience 59: 613–20.
Kery, M., Gardner, B., Monnerat, C. 2010. Predicting species distributions from checklist data using site-occupancy models. Journal of Biogeography 37: 1851–1862.
Los, W., Wood, J. 2011. Dealing with data: Upgrading infrastructure. Science 331 (6024): 1515-16.
Patterson, D.J., Cooper, J., Kirk, P.M., Pyle, R.L., Remsen, D.P. 2010. Names are key to the big new biology. Trends in Ecology and Evolution 25: 686–691.
Pimm, S.L. & Raven, P. 2000. Extinction by numbers. Nature 403:843–845.
Rockström, J., Steffen, W., Noone, K. et al. 2009. Planetary boundaries: exploring the safe operating space for humanity. Ecology and Society 14: 32. [online] URL: http://www.ecologyandsociety.org/vol14/iss2/art32/
Silvertown, J. 2009. A new dawn for citizen science. Trends in Ecology and Evolution. 24: 467–471.
Snäll, T., Kindvall, O., Nilsson J. &, Pärt, T. 2011. Evaluating citizen-based presence data for bird monitoring. Biological Conservation, 144 (2): 804–8103.
Snäll, T., Forslund, P., Jeppsson, T., Lindhe, A. & O'Hara, R.B. 2013. Evaluating temporal variation in citizen science data against temporal variation in the environment. Ecography 37: 293–300.
Yoccoz, N.G., Nichols, J.D. & Boulinier, D. 2001. Monitoring of biological diversity in space and time. Trends in Ecology and Evolution 16: 446–453.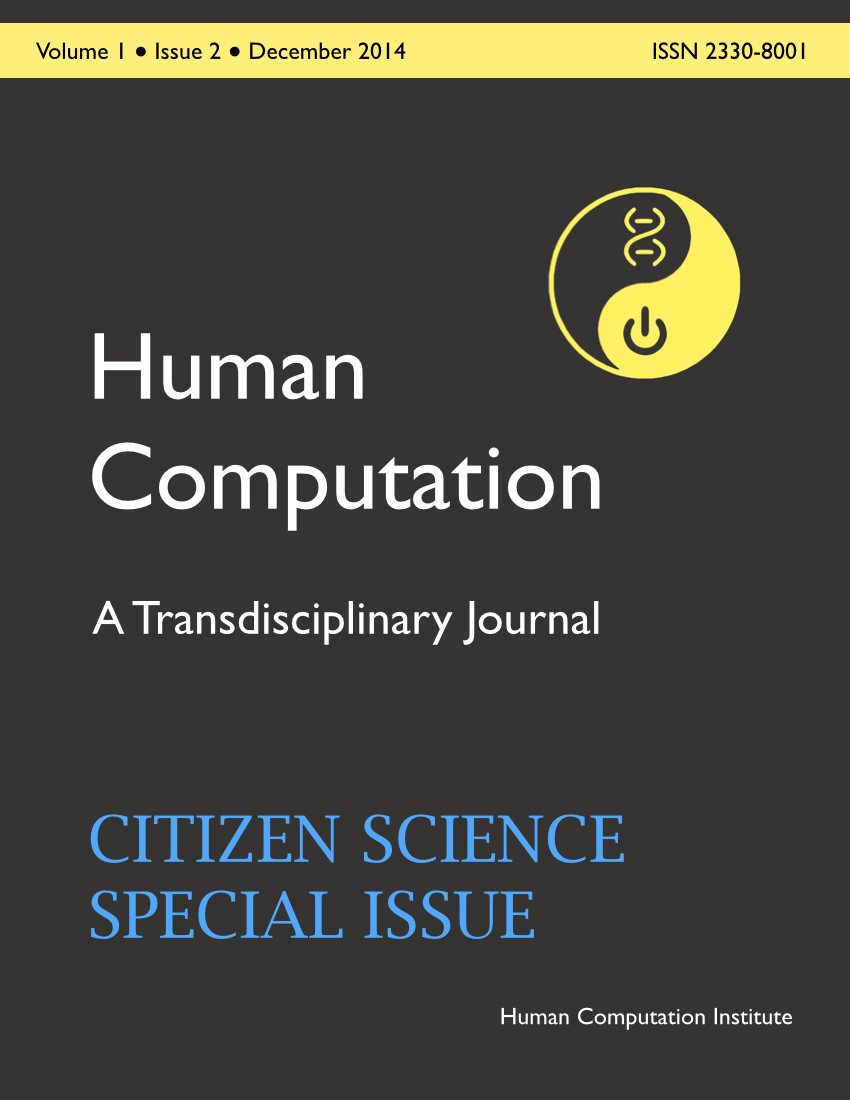 Downloads
How to Cite
Gärdenfors, U., Jönsson, M., Obst, M., Wremp, A. M., Kindvall, O., & Nilsson, J. (2014). Swedish LifeWatch ─ a biodiversity infrastructure integrating and reusing data from citizen science, monitoring and research. Human Computation, 1(2). https://doi.org/10.15346/hc.v1i2.6
License
Authors who publish with this journal agree to the following terms:
Authors retain copyright and grant the journal right of first publication with the work simultaneously licensed under a Creative Commons Attribution License that allows others to share the work with an acknowledgement of the work's authorship and initial publication in this journal.
Authors are able to enter into separate, additional contractual arrangements for the non-exclusive distribution of the journal's published version of the work (e.g., post it to an institutional repository or publish it in a book), with an acknowledgement of its initial publication in this journal.
Authors are permitted and encouraged to post their work online (e.g., in institutional repositories or on their website) prior to and during the submission process, as it can lead to productive exchanges, as well as earlier and greater citation of published work (See The Effect of Open Access).