SOCIENTIZE participatory experiments, dissemination and networking activities in perspective
Abstract
Citizen science includes a wide range of activities in which citizens are involved in research projects, either by collecting or analyzing massive data sets, or by developing small-scale activities, such as grassroots groups taking part in local policy debates. In parallel, the concept of digital society is emerging and triggering a social and information revolution. Here, large scientific infrastructures and high performance communication technologies have resulted in e-science and allow addressing problems that were unsolvable until a few decades ago. Similarly, the millions of people around the world that are permanently interconnected can be considered as a citizen-based infrastructure (c-infrastructure) which can be used for distributed computing, collective talent or ubiquitous data gathering. As a result, we have a complex entity with intelligence and collective knowledge.Funded by the European Commission, SOCIENTIZE is a FP7 project, which aims to set the basis of citizen science in Europe for Horizon2020. For the last two years, SOCIENTIZE has been promoting Citizen Science in order to 1) raise awareness about the importance and impact of citizen science, 2) to foster interaction and coordination between all citizen-science actors, 3) to promote the capabilities of c-infrastructures among researchers and citizens for an enhanced science, 4) to coordinate and promote citizen science projects and finally (5) to collect and share the best practices and recommendations for the implementation of citizen science projects in Europe. To achieve these goals, SOCIENTIZE has developed and implemented several activities that are described in this paper.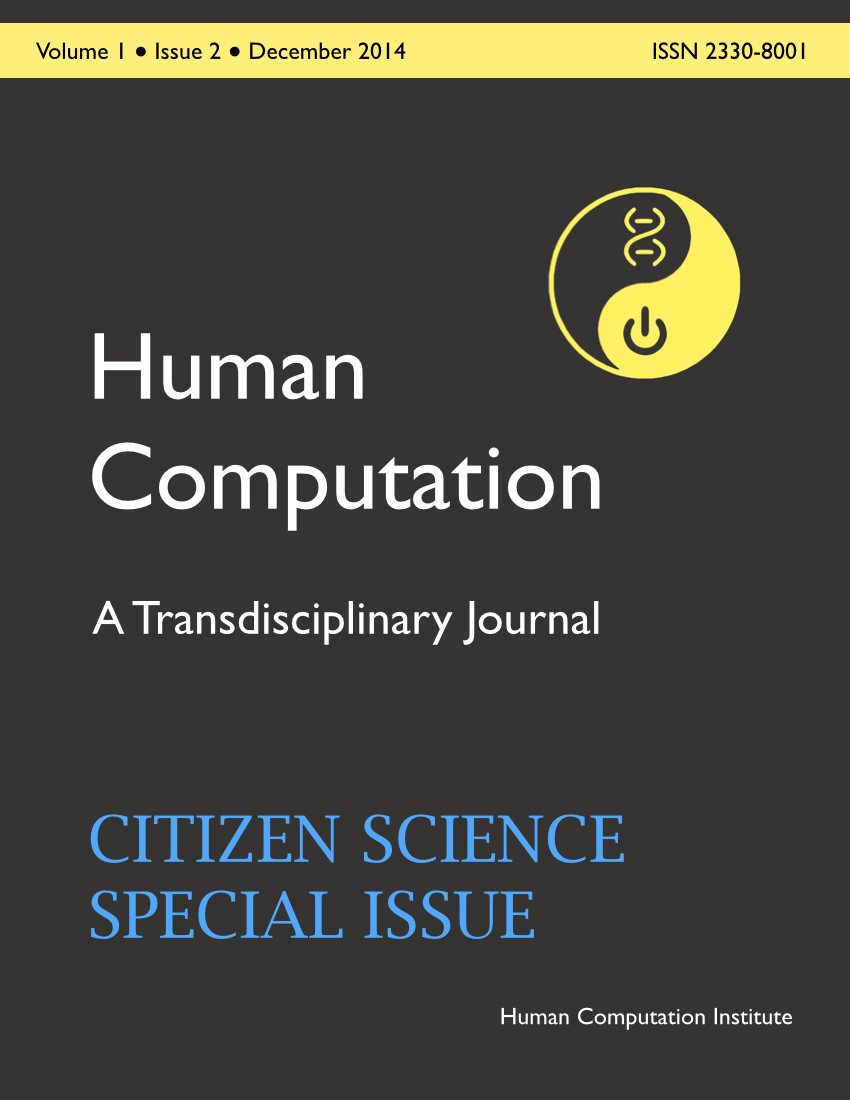 Downloads
How to Cite
Silva, C. (2014). SOCIENTIZE participatory experiments, dissemination and networking activities in perspective. Human Computation, 1(2). https://doi.org/10.15346/hc.v1i2.4
License
Authors who publish with this journal agree to the following terms:
Authors retain copyright and grant the journal right of first publication with the work simultaneously licensed under a Creative Commons Attribution License that allows others to share the work with an acknowledgement of the work's authorship and initial publication in this journal.
Authors are able to enter into separate, additional contractual arrangements for the non-exclusive distribution of the journal's published version of the work (e.g., post it to an institutional repository or publish it in a book), with an acknowledgement of its initial publication in this journal.
Authors are permitted and encouraged to post their work online (e.g., in institutional repositories or on their website) prior to and during the submission process, as it can lead to productive exchanges, as well as earlier and greater citation of published work (See The Effect of Open Access).