Using a Citizen Science Approach in Higher Education: a Case Study reporting Roadkills in Austria
Keywords:
vehicle collissions, public participation, mobile learning
Abstract
Many European universities are faced with the trend towards increasing student numbers along with steady numbers of lecturers and professors. Especially courses in natural sciences live from their applied character, therefore the challenge for educators is to teach and transfer knowledge at weak lecturer to student ratios. As a way to cope with this situation, we created a project using a citizen science approach in an obligatory Bachelor course named Biology of Terrestrial Animals. The project called BOKUroadkill was conducted over three months and engaged students in reporting roadkilled animals during their daily routine. With a mobile app (EpiCollect) running on their private devices and a custom-programmed online reporting form over 100 students reported 1236 animals killed on roads. After data collection and analysis, students provided feedback on the project. Based on the students' feedback, we developed a new online platform where all citizens can participate (www.citizen-science.at). Based on our experience with BOKUroadkill we conclude that a citizen science approach in higher education is very suitable for (i) addressing important elements of motivation for learners and (ii) familiarizing students with scientific research.
References
Aanensen, D. M., Huntley, D. M., Feil, E. J., al-Own, F., & Spratt, B. G. (2009). EpiCollect: Linking Smartphones to Web Applications for Epidemiology, Ecology and Community Data Collection. PLoS ONE, 4(9), e6968. doi:10.1371/journal.pone.0006968
Bonney, R., Cooper, C. B., Dickinson, J., Kelling, S., Phillips, T., Rosenberg, K. V., & Shirk, J. (2009). Citizen Science: A Developing Tool for Expanding Science Knowledge and Scientific Literacy. BioScience, 59(11), 977–984. doi:10.1525/bio.2009.59.11.9
Ciampa, K. (2014). Learning in a mobile age: an investigation of student motivation. Journal of Computer Assisted Learning, 30(1), 82–96. doi:10.1111/jcal.12036
Education, Audiovisual and Culture Executive Agency. (2012). The European Higher Education Area in 2012: Bologna Process Implementation Report.
L. Annaevs Seneca. (62AD). CVI. In Liber Septimvs Decimvs Et Octavvs Decimvs.
Malone, T. W., & Lepper, M. R. (1987). Making Learning Fun: A Taxonomy of Intrinsic Motivations for Learning. In Aptitude, Learning, and Instruction (Vol. Volume 3: Conative and Affective Process Analyses, pp. 223–253). Hillsdale, New Jersey: Lawrence Erlbaum Associates.
Reynolds, J. A., & Lowman, M. D. (2013). Promoting ecoliteracy through research service-learning and citizen science. Frontiers in Ecology and the Environment, 11(10), 565–566. doi:10.1890/1540-9295-11.10.565
Statistik Austria. (2013). Europäische Erhebung über den IKT-Einsatz in Haushalten 2013.
The Boston Consulting Group. (2013). Mobile Economy Europe 2013 (p. 136). Retrieved from http://gsmamobileeconomyeurope.com/GSMA_Mobile%20Economy%20Europe_v9_WEB.pdf
Zoellick, B., Nelson, S. J., & Schauffler, M. (2012). Participatory science and education: bringing both views into focus. Frontiers in Ecology and the Environment, 10(6), 310–313. doi:10.1890/110277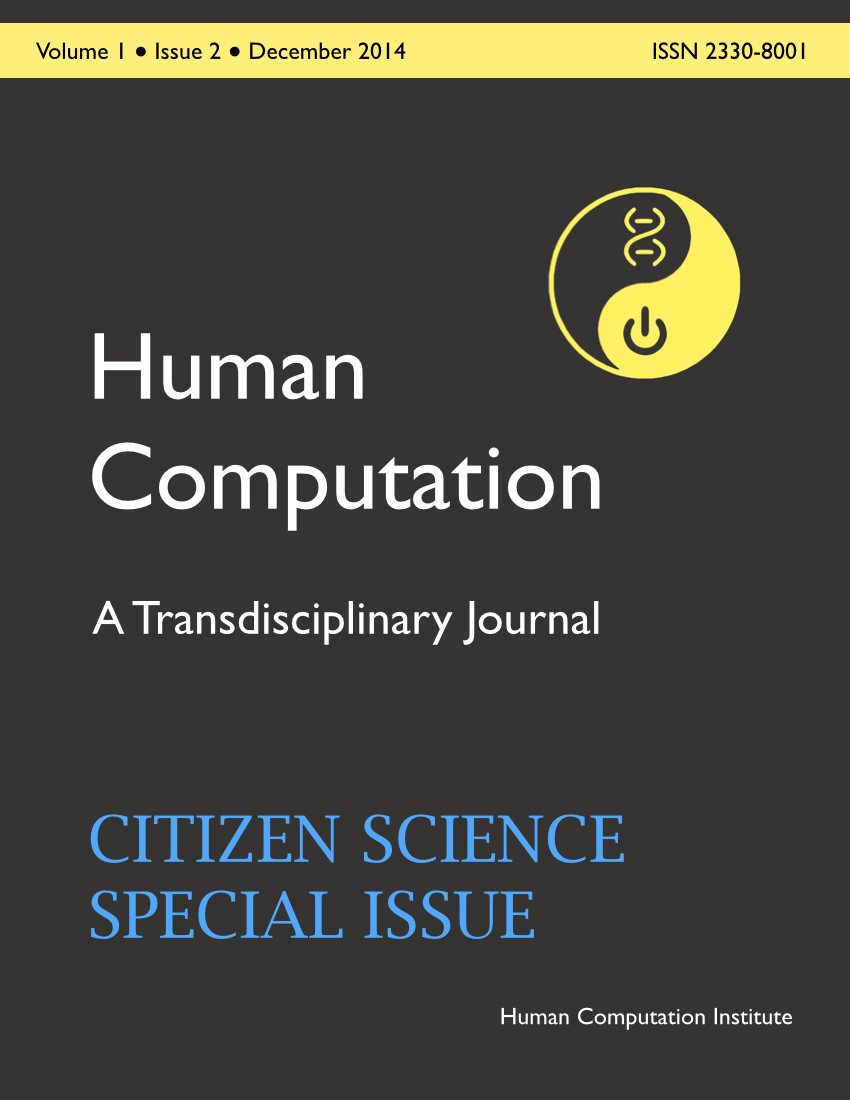 Downloads
How to Cite
Heigl, F., & Zaller, J. G. (2014). Using a Citizen Science Approach in Higher Education: a Case Study reporting Roadkills in Austria. Human Computation, 1(2). https://doi.org/10.15346/hc.v1i2.7
License
Authors who publish with this journal agree to the following terms:
Authors retain copyright and grant the journal right of first publication with the work simultaneously licensed under a Creative Commons Attribution License that allows others to share the work with an acknowledgement of the work's authorship and initial publication in this journal.
Authors are able to enter into separate, additional contractual arrangements for the non-exclusive distribution of the journal's published version of the work (e.g., post it to an institutional repository or publish it in a book), with an acknowledgement of its initial publication in this journal.
Authors are permitted and encouraged to post their work online (e.g., in institutional repositories or on their website) prior to and during the submission process, as it can lead to productive exchanges, as well as earlier and greater citation of published work (See The Effect of Open Access).